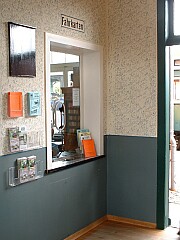 Tickets can be obtained from the counters at Bruchhausen-Vilsen and Asendorf station. Other stations are unoccupied, you have to buy your tickets from the conductor. You can interrupt your trip at every station, please ask the conductor for details.

Additional trains and group reservation on request, ask for charter. For information or booking call the DEV station office at Bruchhausen-Vilsen.

Ticket counter and Museum-Shop at Bruchhausen-Vilsen station will open one hour before departure of the first train.


Sample ticket prices
Adult round-trip 13,- EUR;
Children between 6-14 years 50% off;
Family ticket for 2 adults and up to 3 children between 6-14 years 30,- EUR.
Online Ticket Store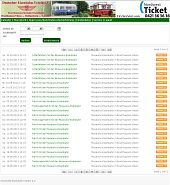 Tickets can be obtained online as well, please visit our Webshop at Nordwest Ticket. With these tickets you can directly get on board the train at Bruchhausen-Vilsen. The tickets include reserved seating, you can freely select a seat in the reservated area.